I am sitting in an armchair in my living room, next to a large steel window. From here I can see the end of the street, which leads to Paseo de Aragón delimiting the eastern part of Alboraya with the orchard. The orchard invades the horizon until Patacona can be seen and behind it the Mediterranean Sea.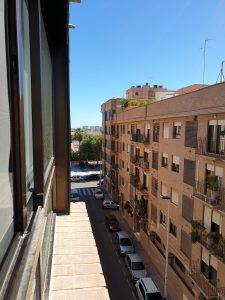 Step 1. The experience of the environment
Why did you choose this place?  
I have chosen this space because for me it is a place that allows me to observe what happens in the streets but without having to be part of it, from the peace of my home. I have been living here since I was a child and during all that time I have been able to observe how children played, people walking their dogs, others with their families, etc. and see the evolution of this environment over the years. 
What makes you comfortable? 
 this corner makes me feel especially comfortable because apart from being a familiar environment for me, the natural light that invades it throughout the day is beautiful and gives me peace of mind.
There is some disruptive element? 
Yes, it bothers me that the window doesn't go from floor to ceiling because it interrupts the view of the outside, although I don't consider that to be of great importance either.
Do you think you'd feel the same way in another space right now?  
No, I never have the same feeling when I am in different spaces but each one of them produces a unique sensation.
Do you think that the conditions of this space influence its occupants? How? 
Yes, you can see that depending on the light that enters the room influences our character that day; like when it's sunny and makes you want to go outside or when it's more cloudy and you just want to stay at home. I also think that the internal elements such as the living room furniture (sofa, armchair …) make us assimilate the space as quiet and comfortable. 
Would you change anything? 
Yes, I would like to be able to remove the building in front of us to allow us to have better views and internally I would also like to change the furniture to a lighter and more minimalist one since I believe that the current dark wood darkens the room, as does the floor.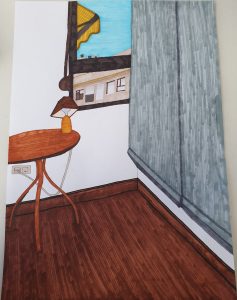 Step2. Reading and understanding the text and writing reflections on it
"Athmospheres" introduces in an easy and simply way the most important components that are parts of all architectural works. Personally I had never stopped to think consciously about the necessary relationships of all the factors that Pete Zumther names and explains and I think it is a good reflection on which to start understanding architecture in depth.